Episodes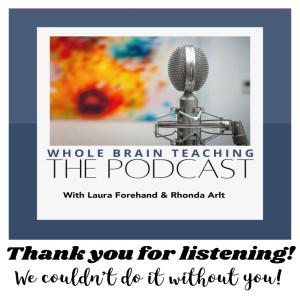 Tuesday Jun 07, 2022
Tuesday Jun 07, 2022
It's time for another amazing episode of Whole Brain Teaching the Podcast!  This one comes our right as we begin our Summer Virtual 1-hour Conferences!  Rhonda and I are once again honored to have Coach Chris Biffle joining us to talk about Extremely Beloved Rascals or EBRs.  We learn how to spot an EBR and the best ways to deal with them in our classroom.
If you are not aware of the AMAZING June 1-hour conferences happening RIGHT NOW, head over to www.wholebrainteaching.com to learn more and to sign up for as Zoom sessions many as you want!  They are all 100%, totally FREE!
Don't forget our National Conferences happening July 25, 26, and 27!  Stay close to all our Facebook pages, Instagram pages, and the Whole Brain Teaching website so you don't miss out.  Click this link to help you stay connected: bit.ly/WholeBrain3.
As always, follow, like, and SHARE this podcast and ALL our podcasts so you stay up to date on the very latest happenings in Whole Brain Teaching.